| | |
| --- | --- |
| | |
| | |
| | This true story of a Special Forces officer in Vietnam in the mid-sixties will acquaint you with the unique nature of Special Operations Forces and how covert operations are developed and often masked to permit — even sponsor — assassination, outright purposeful killing of innocents, illegal use of force and bizzare methods in combat operations. |
| | |
| | |








Front Flap
"Dan, if you take this command and accept this TOP SECRET mission, you will be on your own. When you leave this room, it will be as if we never met. We can't and won't stand behind you if you are caught doing what I am about to tell you to do. Got it, Captain?"

This true story of a Special Forces officer in Vietnam in the mid-sixties will acquaint you with the unique nature of Special Operations Forces and how covert operations are developed and masked to permit — even sponsor — assassination, outright purposeful killing of innocents, illegal use of force and bizarre methods in combat operations.

Expendable Elite reveals the fear that these elite warriors share with no other military person — not the fear of the enemy they have been trained to fight in battle, but fear of the wrath of our government should they no longer be needed and find themselves classified as… expendable.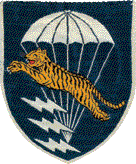 A centerpiece of this book is the CIA mission to assassinate Cambodian Crown Prince Norodum Sihanouk, the author's unilateral aborting of the mission, and the drama surrounding the dispatch by the CIA of an ARVN regiment to attack, destroy the camp and kill every person in it as retribution for standing up against the CIA.

The dramatic rescue by ARVN LTG Quang Van Dang of eight American Green Berets and hundreds of South Vietnamese will capture your curiosity and whet your appetite for more in this ongoing SPECIAL OPERATIONS series.

Back Cover

"Dangerous Dan" Marvin is a retired Lieutenant Colonel in the United States Army Special Forces and former Green Beret who served in the Korean and Vietnam wars. He lives in Cazenovia, New York.

"We want you to take care of it, 'Dangerous,' because we believe you can get the job done.
We've ben asked to terminate Prince Sihanouk.
Your job will be to bring about his death and make it appear to have been done by the VC.
The mission had the "Highest Authority."
They wanted him to kill the Crown Prince of Cambodia.
He wanted an end to the enemy's safe haven across the border.
They said, "People like you don't make demands of the CIA."
When a 32 year-old Green Beret Captain refuses to abandon his friends and principles, he and his men become the enemy. An armored regiment of ARVN soldiers along with US advisors are dispatched to … "take control."


A story suppressed for years, Expendable Elite gives unique insights into the use of Special Forces in unconventional warfare, something that has become commonplace in today's conflicts.

As the first Special Forces Commander given the TOP SECRET assignment to take the war to neutral Cambodia, "Dangerous Dan" Marvin gives you an insider's view into that world where "independent operations" mix with shadowy intrigue. retribution for standing up


Back Flap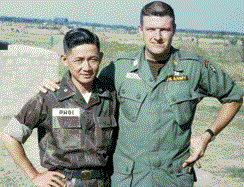 ARVN Major Le Van Phoi and US Army Green Beret Captain "Dangerous Dan" Marvin, commander of South Vietnamese Irregulars in January 1966 at Special Forces CIDG Camp Dan-Nam, An-Phu, South Vietnam.

"I hope our emissary from the Hoa Hao people reaches General Dang in time to stop the slaughter." Tears welled in his eyes. I'd never seen Major Le cry, but I knew he loved his men and that his real concern was that others would suffer, even die at the hands of the ARVN troops sent to destroy us.


Special Forces commander "Dangerous Dan" Marvin "won the hearts and minds" of the 64,000 Hao Hoas, a fiercely independent militant Buddhist sect that lived in An-Phu District. He was called "King of the Hoa Haos" by his superior officer and is the only American ever named an honorary Hoa Hao by their Central Council.

An-Phu juts out at the western edge of Vietnam into Cambodia. The Hao Hoas were organized into a Civilian Irregular Defense Group (CIDG) and were ready to strike back at an enemy that would kill and then melt back over the border into Cambodia. 'Dangerous Dan's' TOP SECRET orders gave them their chance.

Thoroughly documented and told with colorful detail and over 170 photos, Expendable Elite takes the reader into the daily life of a Green Beret Special Forces commander while he gets caught between 'official' policy, covert actions and the very real and gruesome facts of war. This is also an account of two warriors doing their duty with honor, defending their friends and families from attack.

ISBN 0-9720207-1-3